I first met Aboriginal journalist Charles Pakana, born Keir Wells, in the early eighties when he and I were both freelancing in the personal computer magazine industry. That was close on 40 years ago and we have both moved on significantly from those heydays of freelance journalism.
Now, Charles heads up a small business called Victorian Aboriginal News, which sees him travelling across Victoria in his Transit van and seeking out stories that other journalists either can't do or simply don't want to.
In this interview, I catch up with Charles and ask him about his work.
Creative Content: What is Victorian Aboriginal News and how did it start?
CP: It all came about as a result of having travelling allowance disallowed when I was the Treaty journalist and broadcaster at a Melbourne radio station. My station manager, a non-Aboriginal man, told me that all my interviews now had to be done by telephone and that face-to-face interviews on Country, even with Elders, were no longer allowed.
I remember coming home from that meeting and saying to my mother: "When you fall off the perch, I'm going to get rid of everything, move into a mobile home and travel Victoria reporting on positive Aboriginal stories and give them away for free!" That's what happened.
I quit my radio job, focused on looking after Mum and getting ready for the inevitable. When that happened, and with much-needed financial support from my brother, I purchased a new Ford Transit van, gave away most of my possessions and fitted out the van with a very bare-bones setup. The one thing I didn't skimp on, though, was power – 600Ah of Lithium Ion batteries and half the roof covered in solar panels.
That was over two years ago, and I've been living full-time in that van ever since. Yeah, at 65 years of age I'm a full-time van lifer. BTW, it's purely coincidence that the acronym of my company is VAN. A happy coincidence, though. 🙂
Creative Content: Do you podcast, vlog or both?
CP: Well, you and I go back a long way, and like you I started off as a print media journalist back in the early eighties, covering the burgeoning computer industry. I had just left the Army after a nine-year stint as an infantryman and was looking for a totally different career path.
Most of the past 40 years has been self-employed/freelancing under my birth name of Keir Wells, and it wasn't until about six years ago that I was asked to go on radio and concentrate on Aboriginal current affairs, which is where I fell in love with audio and podcasting.
But to your question, I currently run a twice-weekly podcast called the Referendum '23 Tapes, which is an ongoing series of interviews with politicians, activists, business leaders, community leaders and subject-matter experts from across Australia. As the name implies, it's all about the forthcoming Referendum on a First Nations Voice to Parliament enshrined in the Constitution.
On top of that I'm in the production stage of a new video project called the Leader Tapes. This really gets to the heart of Victorian Aboriginal News – travelling across Victoria and capturing the stories and experiences of amazing Aboriginal Elders and leaders. I'm hoping that this will be launched in early June this year…fingers crossed.
I also have some other projects in various stages of planning, but funding and available time will keep them at that stage for a while to come.
Creative Content: How are you set up? Do you have a dedicated studio?
CP: Well, I'd love to have a dedicated studio, but as a mobile journalist most of my podcast interviews are conducted via telephone from my van, except when they're face-to-face. In those cases it's either in the interviewee's office or, as happens many times, sitting on a couple of camping chairs out in the bush. For my videos, again, it's either in the interviewee's office or out bush. Too simple!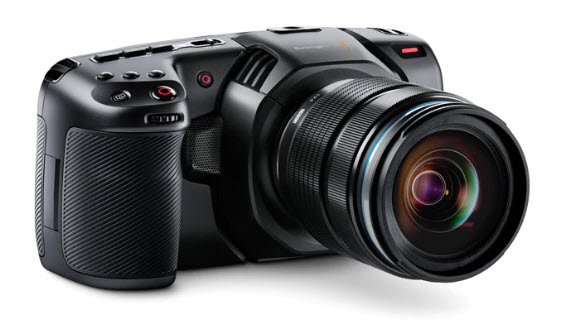 When it comes to my kit, I'll break it into three key components for you – video, audio and editing. Before I do, though, I want to acknowledge Creative Victoria for awarding me a grant that allowed me to purchase a fair bit of the equipment I now use for my content creation.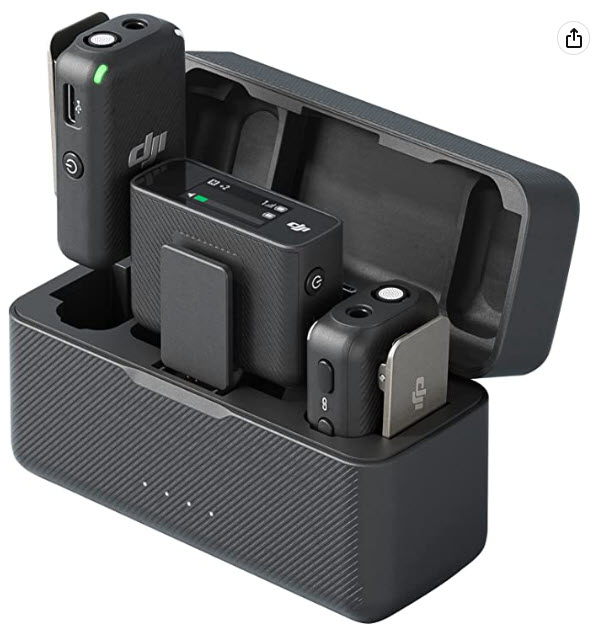 Now, for my video, the primary capture devices are two Blackmagic Design Pocket Cinema 4K (BMPCC4K) cameras. They replace my previous setup of a cheap handheld camcorder and two GoPro cameras. Connected to my primary BMPCC4K is the receiver component of a DJI Wireless 2-Microphone kit – a massive quality and time-saving improvement over the previous configuration, which was two Zoom H1 recorders with Lav microphones.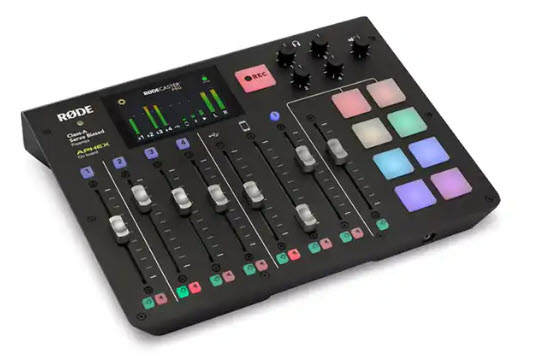 For my podcasts, it's the same piece of kit that I've been using for over three years – the amazing RodeCaster Pro. Man, I love that product. Connected to that I have up to three Audio-Technica BPHS1 Headsets for face-to-face interviews and, when it's a remote interview, I simply hook in my iPhone.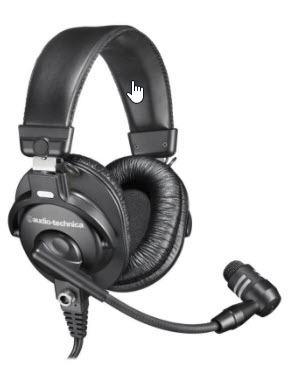 When it comes to editing, it's all done on a 2022 M2 iPad Pro. For video, I'm currently transitioning from Lumafusion, which is a brilliant product and I'll never delete it from my system, to Davinci Resolve 18. I'm just waiting – like most other users – for Blackmagic to release it with at least the Fusion option. That would truly be amazing!
For the podcasts, it's the incredible Ferrite 3 Pro (paid version) app. I came across this a couple of years ago when I was producing a daily half-hour "positive news" broadcast for Aboriginal radio during Melbourne's COVID lockdowns. I needed something that would dramatically streamline the audio editing process, even more than Audacity, and that's precisely what Ferrite delivers. So much so that I've estimated it takes me between 50-60 percent of the time to edit audio on Ferrite than it does on Audacity, but note that this is with the Apple Pencil – another piece of "must have" kit for me.
Creative Content: What do you use to communicate and build your audience?
CP: That's the biggest challenge; and it's one that any independent content creator is going to face – building and maintaining the audience. Responding to that question fully would consume the entire word count for this article, so I'll cut it down to some specifics.
Initially, social media. Instagram, Facebook, Linkedin and Youtube. We haven't yet moved onto Twitter, but that will come in the near future. Ensuring the right hashtags are used, trying to utilise attention-grabbing images and copy, and tracking what works and what doesn't are all part of the equation.
For the podcast, which is our main focus right now, we have been very fortunate in being able to build an audience, although it is still a hard slog.
First up, using a single podcast publishing platform – our choice is Buzzsprout – and configuring it to push each episode out to all the major platforms is critical. Then, posting it to our website and sharing those posts to all our social media accounts.
We're also building a subscriber base for a regular…well, sort of regular newsletter that we manage under Mailchimp.
Creative Content: You've said "we" a few times. Who is "we"?
CP: [Laughs] That's a hangover from my corporate writing days when sounding bigger often helped getting a foot in the door with bigger clients. In actual fact it's mainly just me, but I have a couple of amazing volunteers who help out with various tasks.
Most notably, I have a really dedicated young woman who volunteers two days a week to manage a lot of my administration, line up interviews and do the all-important grant writing.
We've also recently set up a Content and Ethics Advisory Panel, consisting of Aboriginal and non-Aboriginal subject-matter experts who help guide the content and balance of the work we do and are planning to do.
Creative Content: Is there a website?
CP: Absolutely! It's www.vicaboriginalnews.com.au and is based on the Divi theme for WordPress, which I've found wonderfully suitable for our work.
Creative Content: Do you have advertising? If not, how is it supported financially?
CP: Absolutely no advertising. It's just something I'm uncomfortable about. Most of the work I do is self-funded, which isn't exactly a good business model. Quite often I have to take a break from the work of Victorian Aboriginal News to do some consultancy work and refill the coffers.
As I've mentioned previously, though, we have been extremely fortunate to receive a couple of grants from Creative Victoria and the City of Darebin in Victoria, which makes a huge difference.
Going forward, we might look at possible revenue generating options such as Patreon, but right now things are looking pretty good.
Creative Content: Are you restricted to Victoria?
CP: Aside from the Referendum '23 Tapes, which has a national focus, yes. I'm relatively well known within the Victorian Aboriginal community, which is fundamental to being able to get the stories and interviews that form the majority of our content.
Looking forward, I don't see the need – and definitely don't really have the desire – to expand beyond this State. SBS/NITV, Koorie Mail, National Indigenous Times all have the national perspective pretty well covered.
For me, I love Victoria and have discovered that there's simply no end to the amazingly positive Aboriginal stories and interviews I can cover.